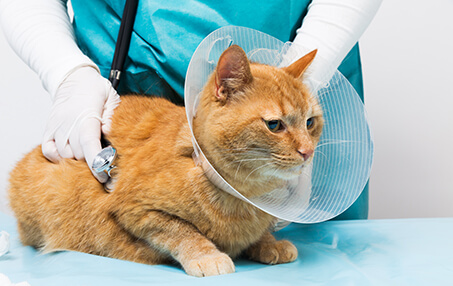 Surgical Services
Surgery is often the most effective way to treat many serious injuries and disorders, and Shadow Lake performs soft tissue and other surgeries in state-of-the-art facilities with cutting-edge equipment.
Our priorities include patient safety and comfort, and our experienced veterinary technicians provide skilled pain management during and after all surgical procedures, ensuring your pet recovers quickly and with minimum discomfort.
Our veterinary team will walk you through the entire process, giving you the information you need to make informed decisions about your pet's treatment options. We understand surgery is a stressful time for any owner, and we're available every step of the way to answer questions and put your mind at ease.
Anesthesia
Many pet parents are concerned when their pets have surgery or another procedure that requires anesthesia. As always, your pet's safety is our main priority. While there is some degree of risk with any medical procedure, we utilize the safest available anesthetics and require pre-operative blood testing to ensure that your pet is healthy enough to undergo anesthesia.
We closely monitor all vitals to make sure your pet is safe and unharmed while he or she is under anesthesia, including heart activity, ECG, blood pressure, oxygen saturation, respiratory system, and temperature.
In addition, our experienced medical team provides skilled pain management during and after all surgical procedures to see that your pet recovers quickly and with minimum discomfort.
Blood Transfusions
Blood transfusions have many uses and can be critical, lifesaving procedures. Blood loss that occurs suddenly due to trauma may require an emergency transfusion to save a patient's life. However, not all blood transfusion situations are related to injury. Cancer patients undergoing chemotherapy, surgical patients, pets with advanced kidney or liver disease, cats with feline leukemia, and pets with bleeding or clotting disorders are some examples of other patients that may require transfusion with blood or blood products.

Our transfusion service allows us to provide blood and blood products for veterinary patients' medical, surgical, or emergency needs. All blood is carefully screened for safety, handled carefully to help ensure delivery of healthy cells, and administered by experienced professionals. Our staff has been extensively trained and will handle your pet with care and compassion.
If you are considering surgery for your pet, please contact us at (386) 673-0333.